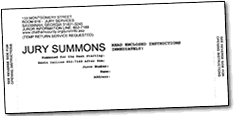 If you have received a Jury Summons in the mail, please review these steps and our frequently asked questions prior to reporting for Jury Service.
Remember: everyone who received a summons for a particular week are on call for that entire week . Check each evening after 6pm to find out if you need to report the next day.
Please call 652-7170 between 2 and 4:30pm Monday through Friday if you have any further questions concerning jury service in Chatham County.
Step 1: FILL OUT your JUROR INFORMATION FORM (1). Your summons will open to three pages after removing the three perforations.

Step 2: START CALLING the JUROR INFORMATION LINE (652-7169) the weekend BEFORE your WEEK STARTING DATE. The reporting instructions for the Monday of your week of service is available on the Juror Information Line recording after 6 pm the Friday before, and the Saturday and Sunday before your week of service. Make sure you call during the correct week. The same juror numbers are assigned to different people each week. The recording will tell you the week the recording instructions are for.

Step 3: LISTEN for your JUROR NUMBER and TIME TO REPORT. You are to report only when and if your juror number is in the range of numbers required to report during your week of service. This website will also post the range of juror numbers that need to report and the time to report after 6pm each evening.

Step 4: REPORT for Jury Service to the JURY ASSEMBLY ROOM which is located on the second floor of the CHATHAM COUNTY COURTHOUSE. 133 MONTGOMERY STREET. Savannah. Georgia [ Map & Directions ]

Step 5: BRING your completed JUROR INFORMATION FORM (1) and the PARKING TICKET from the parking lot with you. Do not bring children. It is preferred that you do not bring pagers or cell phones. If your cell phone or any other device in your possession goes off and interrupts court, it will be confiscated. Your attire should reflect the dignity and professionalism of the court. Please do not wear shorts, tank tops, sweats, and t-shirts with inappropriate printed matter. We recommend bringing a jacket or sweater in case the temperature of the courtroom or jury assembly room is too cool for you.

Step 6: CONTINUE to CALL the JUROR INFORMATION LINE (652-7169) after 6:00 PM every night, Monday through Thursday nights of that week to receive reporting instructions for the following day. You may be called to report for the selection process more than one time.