IMPORTANCE HIGH! Want a Ruling? Serve the Judge
With the conversion to e-filing in most civil matters, it is important to remember that unless the judge is served a copy of a motion, proposed order, response, request, notice, etc., BY THE ATTORNEY OR UNREPRESENTED PARTY, no ruling will be forthcoming.
Uniform Superior Court Rule 6 remains unchanged in its requirement in circuits such as the Eastern Judicial Circuit with individual judge assignment, that the attorney provide a copy of motions and associated materials for the judge:
Rule 6. MOTIONS IN CIVIL ACTIONS Rule 6.1. Filing In civil actions every motion made prior to trial, except those consented to by all parties, when filed shall include or be accompanied by citations of supporting authorities and, where allegations of unstipulated fact are relied upon, supporting affidavits, or citations to evidentiary materials of record. In circuits utilizing an individual assignment system, the clerk shall promptly upon filing furnish a copy provided by the attorney of such motions and related materials to the judge.
Furthermore, USCR 4.10 requires the attorney to notify the judge of dismissals. Imagine the dismay of the court when it belatedly discovers that a matter upon which the judge and staff attorney have been working has been dismissed unbeknownst to the court.
Documents filed in through eFileGA are not automatically sent to the assigned judge. It is solely and entirely the responsibility of counsel to supply the court with motions, proposed order, responses, notices and other matters the attorney desires the court to consider.
It is the duty of the attorney to submit the motion, dismissal or other matter to the judge by doing so at the time of e-filing by selecting Courtesy Copy and entering the email address of the staff attorney assigned to the judge AND by delivering only one hard copy of the motion AND PROPOSED ORDER where appropriate — by whatever means, e.g., mail, fax, hand-delivery most convenient copy.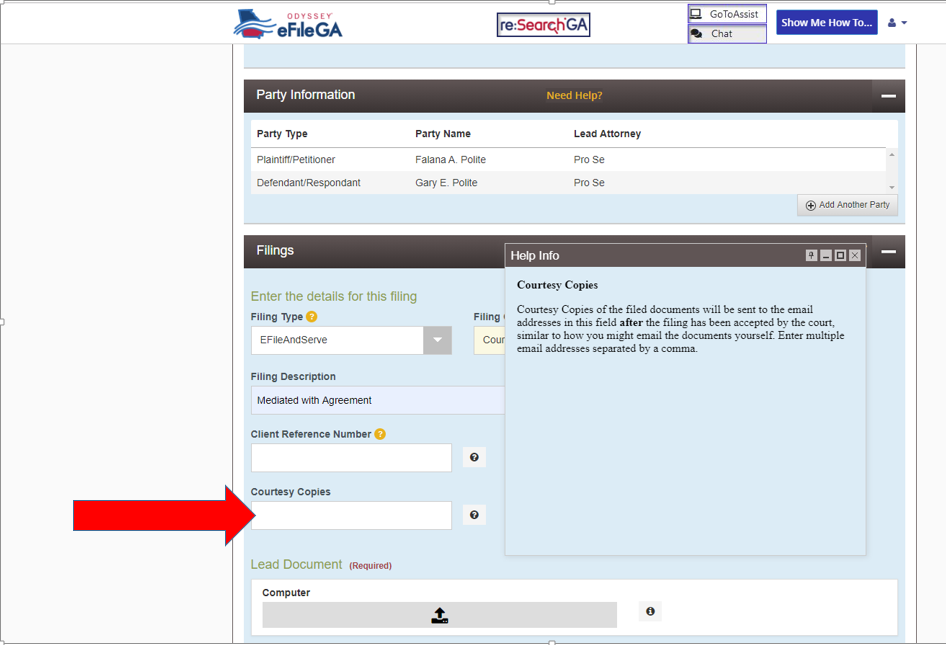 It is apparent that many matters are simply being filed with the clerk and not transmitted to the assigned judge. If, therefore, you are awaiting a ruling in a matter and have not received one, you need to determine whether the assigned judge is even aware of the matter. In other words, absent compliance with the Uniform Superior Court Rules, you should not expect a ruling.