FREE PARKING OPTIONS USUALLY AVAILABLE FOR ALL JURORS
(You may call the Jury Services Division at 912-652-7170 and select option number 1 to hear the most current free juror parking information.)
Remember free parking is available on a "first-come/first-serve" basis at the following garages. Because of the construction on the streets and sidewalks surrounding the courthouse, please allow extra time to find parking (refer to the map below):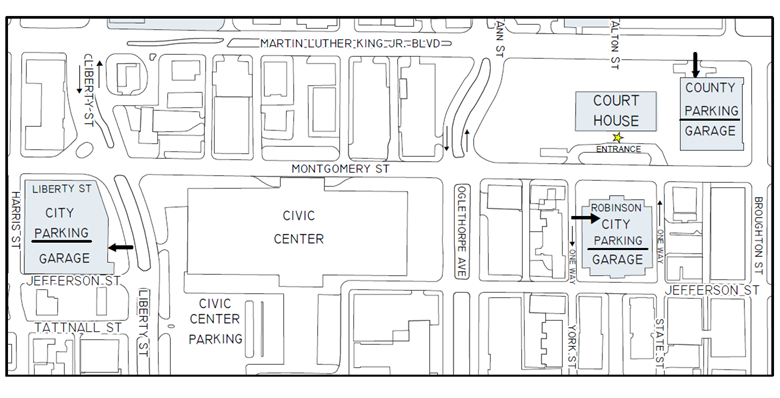 ---
In order for jurors to exit the County Garage that is located next to the courthouse without having to pay: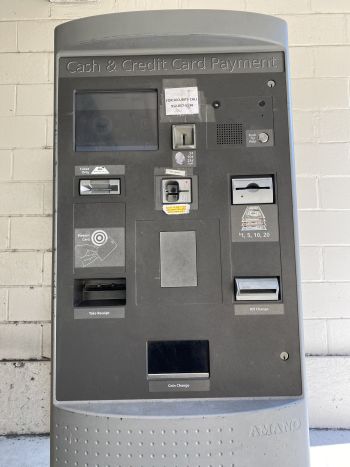 DRIVE DOWN TO THE PAYSTATION KIOSK that is pictured (click to enlarge) when ready to exit the county garage.
INSERT YOUR VALIDATED PARKING TICKET* in the slot labeled "Ticket Only" on the kiosk. There is a picture above the slot showing you what side and how to insert the ticket.
SCAN THE QR CODED VOUCHER SLIP* on the kiosk where it is labeled "Scan Barcode or Take Receipt" WHEN SCANNING THE VOUCHER/ QR CODED SLIP, HOLD IT UNDER THE SCANNER LONG ENOUGH FOR THE SCANNER TO READ IT AND THE EXIT BAR/ARM to RAISE ALLOWING YOU TO EXIT.
* If you do not have the required validated ticket or the QR coded voucher slip, you may need to pay to exit. You may try and press the button on the upper right side of the kiosk and talk to the parking attendant to explain that you are a juror and why you do not have the required validated parking ticket, the QR coded slip, or are having problems with the machine. The parking attendant may be able to help you exit without paying; an attendant is not always available. Follow any other directions that are posted on the parking kiosk.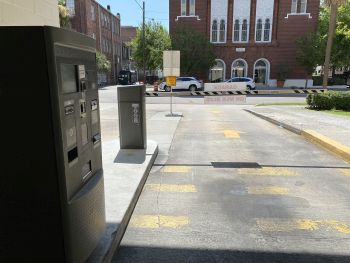 (Click to enlarge)