PARKING OPTIONS USUALLY AVAILABLE FOR JURORS
(Call the Jury Services Division phone number at 912-652-7170 and select option number 1 to hear the most up-to-date juror parking information.)
Remember free parking is available on a "first-come/first-serve" basis at the following garages or lot. Be sure to allow extra time to find parking (refer to the map below; click to enlarge):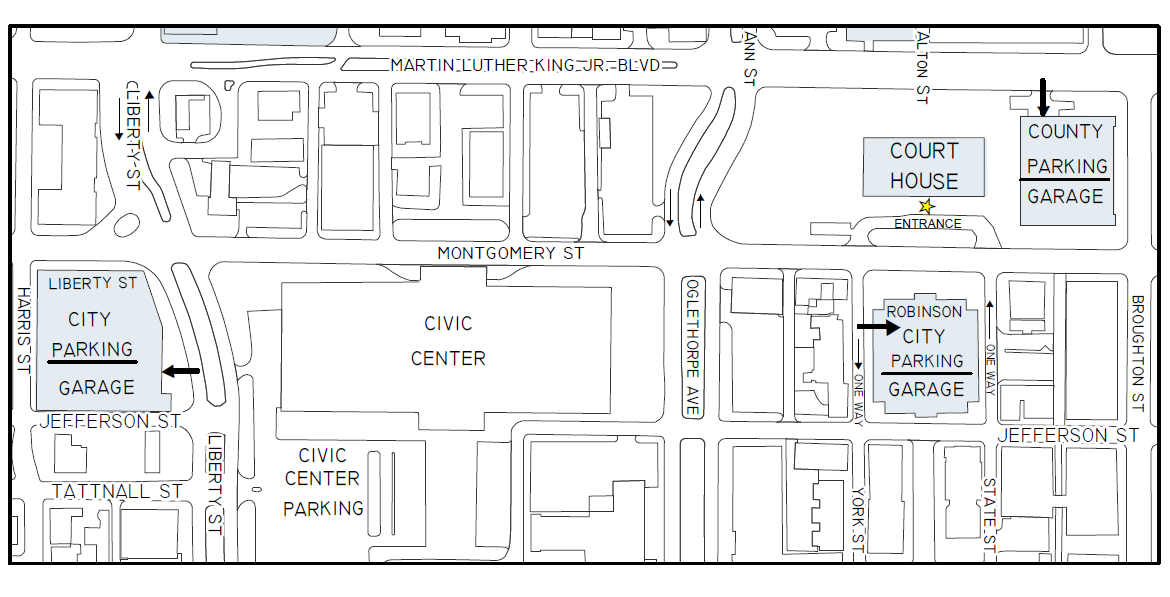 THE CITY'S ROBERT ROBINSON GARAGE – across the street from the courthouse entrance
THE CITY'S LIBERTY GARAGE on the corner of Montgomery Street and Liberty Street
THE COUNTY GARAGE next door to the courthouse, but only on the 5th or 6th floors. The entrance to the county garage is now on the MLK, Jr. Blvd. side and the exit is on the Montgomery Street side. In order to exit without having to pay, you will need the ticket you pull on entering that garage validated at the courthouse along with a QR coded slip to scan on exiting. The QR coded slip will be given to you at the courthouse and is good for the whole day. Therefore, if you move your car during the same day, you may use the same slip again to exit free.

Jurors who park in reserved spaces or on yellow lines risk having your car towed at your own expense. Parking at meters or anywhere else not listed on these instructions is at your own expense.

You must bring the parking ticket you pull on entering the above-mentioned parking areas with you to the courthouse to be validated. You will need the validated ticket in order to exit the garage without paying.

Be sure and allow enough time to find parking and arrive at the required time.
---
In order for jurors to exit the County Garage that is located next to the courthouse without having to pay: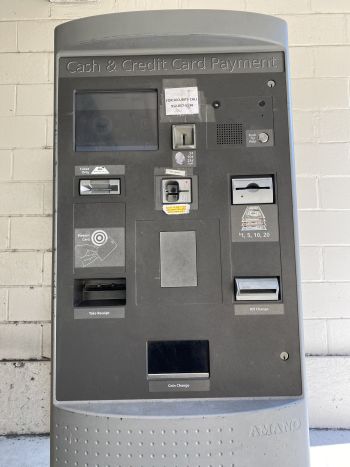 DRIVE DOWN TO THE PAYSTATION KIOSK that is pictured (click to enlarge) when ready to exit the county garage.
INSERT YOUR VALIDATED PARKING TICKET* in the slot labeled "Ticket Only" on the kiosk. There is a picture above the slot showing you what side and how to insert the ticket.
SCAN THE QR CODED VOUCHER SLIP* on the kiosk where it is labeled "Scan Voucher Here" and "Take Receipt." WHEN SCANNING THE VOUCHER SLIP, HOLD IT UNDER THE SCANNER LONG ENOUGH FOR THE SCANNER TO READ IT AND THE EXIT BAR/ARM to RAISE ALLOWING YOU TO EXIT.
* If you do not have the required validated ticket or the voucher slip, you may need to pay to exit. You may try and press the button where the kiosk says, "Push for Help" and talk to the parking attendant to explain that you are a juror and why you do not have the required validated parking ticket, the QR coded slip, or are having problems with the machine. The parking attendant may be able to help you exit without paying; an attendant is not always available. Follow any directions that are posted on the parking kiosk.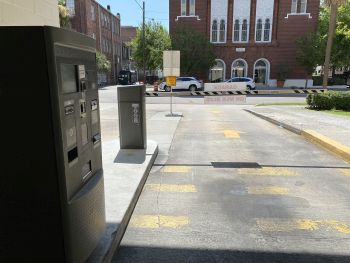 (Click to enlarge)