Chatham County Magistrate Court Recognizes
Andrea Robertson and Lawanda Ferguson Coleman
Chatham County Magistrate Court congratulates Andrea Robertson, Deputy Court Clerk IV, and Lawanda Ferguson Coleman, Deputy Court Administrator I. Ms. Robertson was recently honored for her twenty-five (25) years of service to the County and this Court by the Chatham County Board of Commissioners. Ms. Robertson is the Court's efiling Manager. She started the Court's efiling program in 2018. Today, over half of the Court's new case filings are received by electronic filing. Ms. Coleman recently retired after 28 years of service to the Court. During her tenure, Ms. Coleman worked as a Deputy Court Clerk I, Accounting Technician II, and Chief Deputy Clerk. In 2021, Ms. Coleman became a Deputy Court Administrator, supervising the court's civil operations and staff.
The Judges and staff of Chatham County Magistrate Court are so grateful for both Ms. Robertson's and Ms. Coleman's wonderful service to the Court and our community.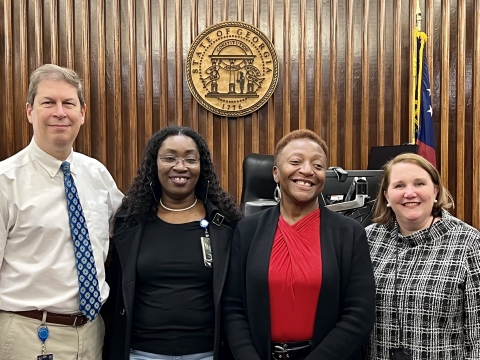 Pictured (left to right): Judge Michael Barker; Andrea Robertson; Lawanda Ferguson Coleman and Judge Mary Kathryn Moss
Click to enlarge image