Starting April 4th, the majority of Court dockets went back to being held in person. All attorneys should check their notice cards carefully, and if there is any confusion please contact the assigned Judge's staff. In lieu of providing a hard copy of motions and responses to the clerk's office as outlined in USCR 6.1, attorneys practicing in the Eastern Judicial Circuit shall provide a hard copy of their motions and responses directly to the assigned Judge's staff, specifically where a ruling or hearing date is being sought and the document is greater than three pages in length, including exhibits.
Pursuant to Uniform Superior Court Rule 6.1 when utilizing the e-filing system, the attorney or party shall notify the opposing parties and the assigned Judge, including their staff, by e-mail of the motion or response no later than 24-hours after e-filing.
Additionally, pursuant to Uniform Superior Court Rule 4.10, all attorneys practicing in the Eastern Judicial Circuit shall notify the Judge and their staff immediately upon the settlement or dismissal of any civil actions.
Louisa Abbot
Judge
133 Montgomery Street
Savannah, Georgia 31401
Room 203
Phone: 912-652-7162
Fax: 912-652-7164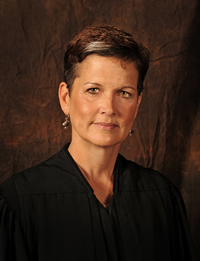 Valerie Murchison
Primary Case Manager - Criminal
Phone: 912-652-3065

Angela Hollinger
Judicial Administrative Assistant

Letta F. Sneed
Staff Attorney
Phone: 912-652-7165
---
Case Assistance
Criminal Cases
If you require assistance or information regarding a pending criminal case assigned to Judge Abbot, please contact her Criminal Case Manager, Jessica Easley at 652-7135.
Civil Cases
If you require assistance or information regarding a pending civil case assigned to Judge Abbot, please contact her Administrative Assistant, Angela Hollinger at 652-7162.
---
Judge Abbot's Chambers
---
Judge Abbot's Judicial Biography
Louisa Abbot is currently serving as Judge of Superior Court of Chatham County, Eastern Judicial Circuit, having been appointed to that position in October 2000 and elected to four-year terms in 2002, 2006 and 2010.
Judge Abbot is a native of Georgia and has lived here in this State most of her life. She is descended from a long line of lawyers and judges and believes the rule of law is one of most significant achievements of civilization. She has lived in Savannah since 1982, where she began her legal career, first as a law clerk to the Honorable Avant Edenfield, Judge of the United States District Court, then practicing law with several firms. She also clerked in Superior Court for Chief Judge Perry Brannen, Jr.
Judge Abbot has been deeply involved in activities associated with the legal profession. She is past-president of the Savannah Bar Association and past-president of the Georgia Bar Foundation, a charitable organization that provides financial support for civil legal services for the poor and other worthy endeavors. She served 6 years on the Georgia Commission on Dispute Resolution. She sits on the Georgia Child Support Commission by appointment of the Governor. She is Chairperson of the Uniform Rules Committee of the Council of Superior Court Judges. Currently, she is Administrative Judge for the 1st Judicial Administrative District. She has been recognized for her service to the Family Law Section of the Bar which awarded her the Joseph T. Tuggle, Jr. Professionalism Award for the year 2002.
She has also received other honors, including the Distinguished Service Award, 1993, presented by the Savannah Jaycees, the Robert E. Robinson Award, 1993, presented by the Younger Lawyer's Section of the Savannah Bar Association, and the 2004 Woman of Achievement award given by the Oglethorpe Business & Professional Women's Club. She was one of ten recipients from across the state of the 2004 Justice Robert Benham Award for Community Service.
She is a graduate of the Leadership Georgia Class of 2002.
Judge Abbot has been committed to serving others in the Savannah/Chatham County community. She is past President of the Rotary Club of Savannah. She has served on the United Way Board, the Chatham-Savannah Homeless Authority, which she chaired for two years, Senior Citizen's Inc., Junior Achievement and other boards. She was on the Board of Curators for the Georgia Historical Society, chairing the Georgia Heritage Celebration Committee in 2003. She is past Chairperson of the Chatham Savannah Citizen Advocacy Board, an organization with she has been affiliated for over 20 years. She is a director of the Queensborough Company, a bank holding company based in Louisville, Georgia.
She is an elder at First Presbyterian Church where she taught Sunday School for more than 20 years.
She is married and has two children.